Welcome to the Great River Children's Museum Family Fun Club. We will be creating new activities each week this summer. Become a Family Fun Club member to be notified when new activities are released.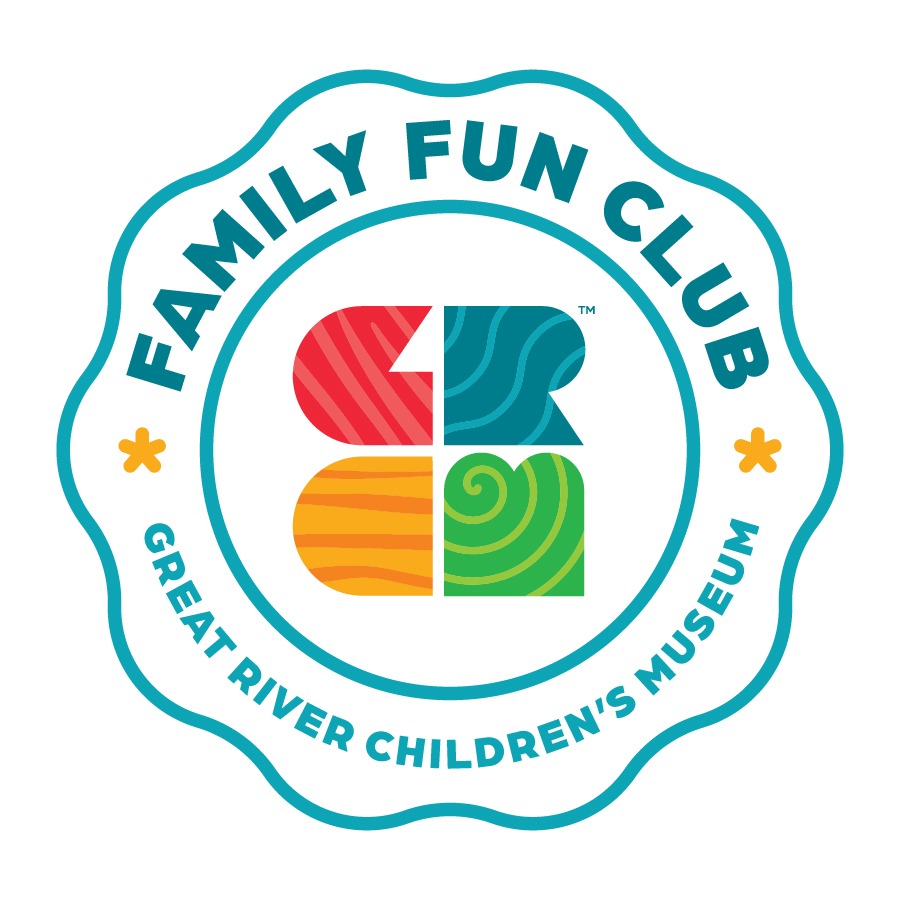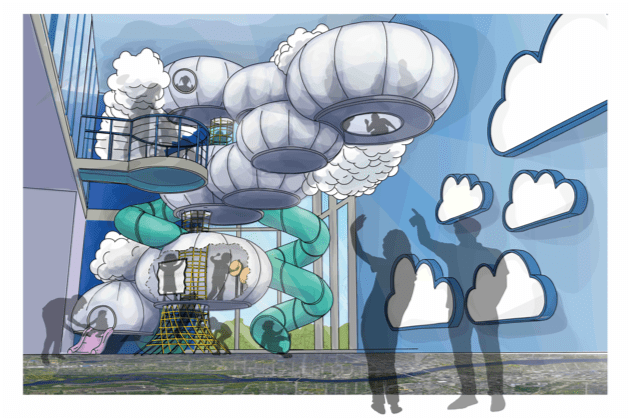 Discover the Clouds
Saturday, August 1st
Today's science activity is all about clouds! One of the proposed exhibits for the future museum location in downtown Saint Cloud is called the Climber to the Clouds, as pictured above. We hope you will enjoy this peek into our plans for the future and then take some time to peek through your Cloud Viewer to observe the clouds in the sky. You can even make your own cloud in a bottle!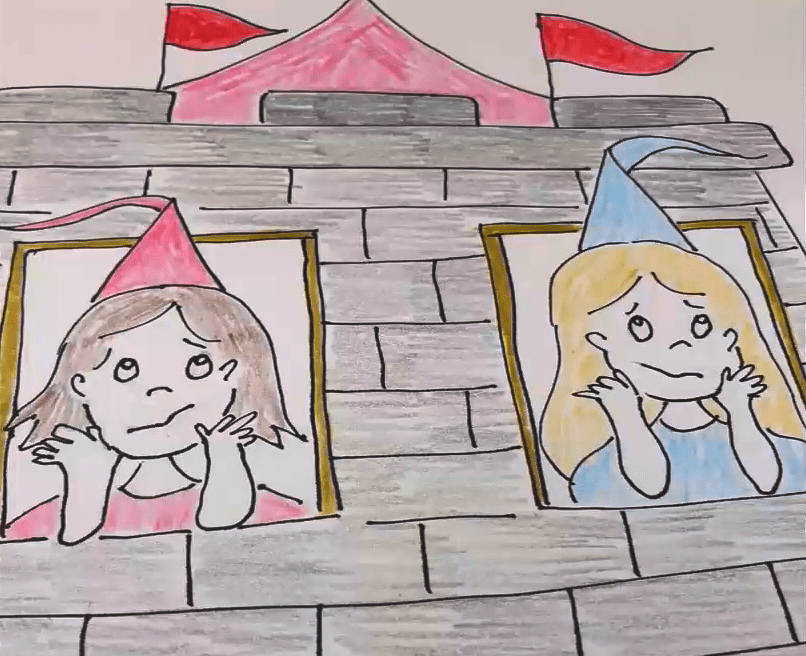 Covid is Getting Us Down
Saturday, July 25th
We are all having a lot feelings about Covid. When children have uncomfortable emotions, they can show up as challenging behaviors or disrupt learning and development. Today's activities all surround ways to help children manage the big feelings they may have around the coronavirus. We hope your children will find one that is helpful for them. Maybe you will find one that works for you, too!
Share the book with your friends here.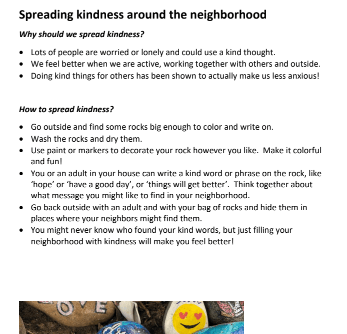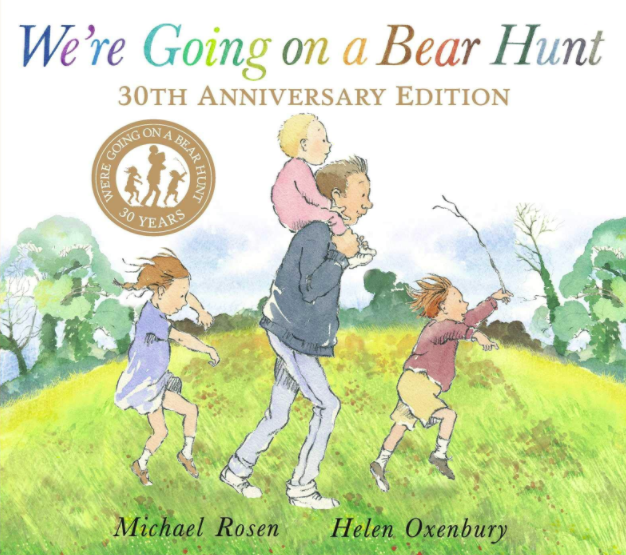 Going on a Bear Hunt
Saturday, July 18th
Today's Family Fun Club activities are all about bears! You can watch a short video from one of our museum volunteers to learn a little bit about what we are planning for the museum. Then enjoy the book We're Going on a Bear Hunt and get inspired to enjoy a wealth of bear related fun activities to grow your child's reading and math skills!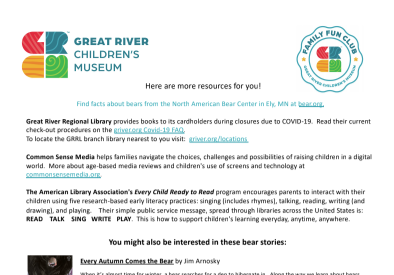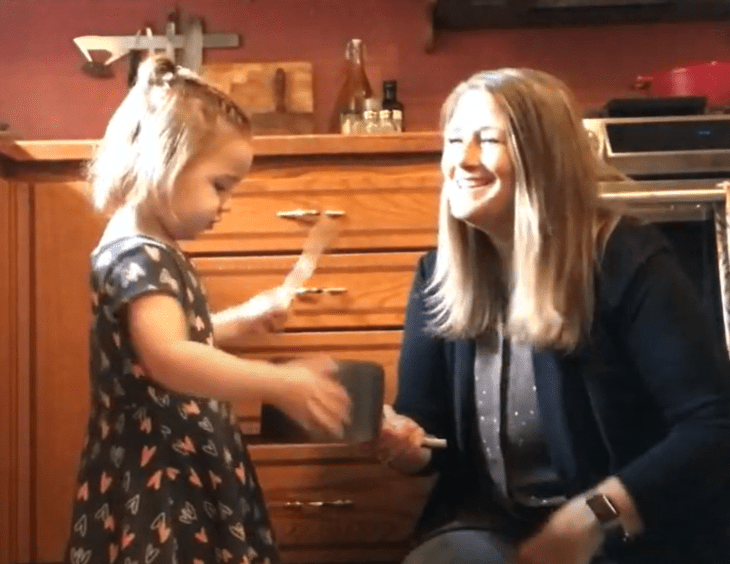 Music Around the House
Saturday, July 11th
This week we will be making music around the house with Jane, Tomoko and Nicki. There are activities especially geared toward infants and toddlers. The big kids will have fun creating their own sounds and rhythms, too! The whole family can join in the band!
Music Around the House for Infants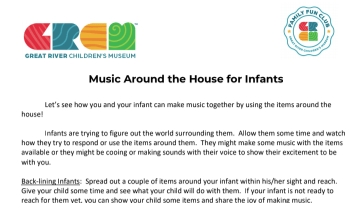 Instruments You can Make from Things Around the House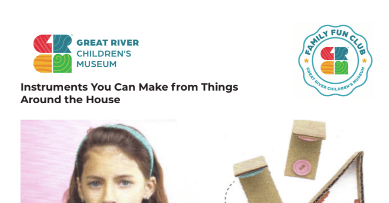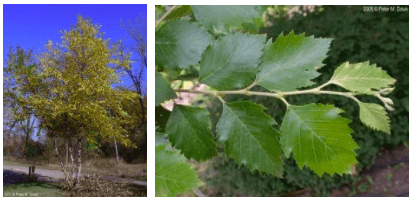 Tree Scavenger Hunt
Saturday, July 4th
Connecting with nature is healthy and fun! With today's activity, you and the children in your life can learn how to identify 20 common Minnesota trees while enjoying one of St. Cloud's favorite parks. If you can't get to Lake George, look around your own neighborhood to see if you can find these trees. Send us a photo of yourself with your favorite tree to add to our photo album. Remember to be safe, hold hands and use cross walks!
If you do not have access to a printer, send us your mailing address and we will mail you a tree hunt booklet. You might also consider saving a tree and viewing the documents on a phone or tablet.
Tree Scavenger Hunt Directions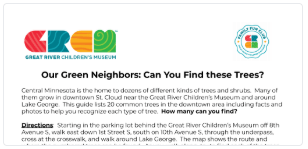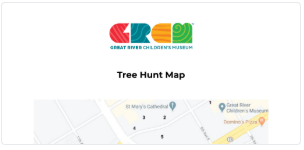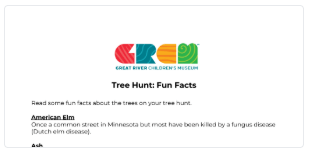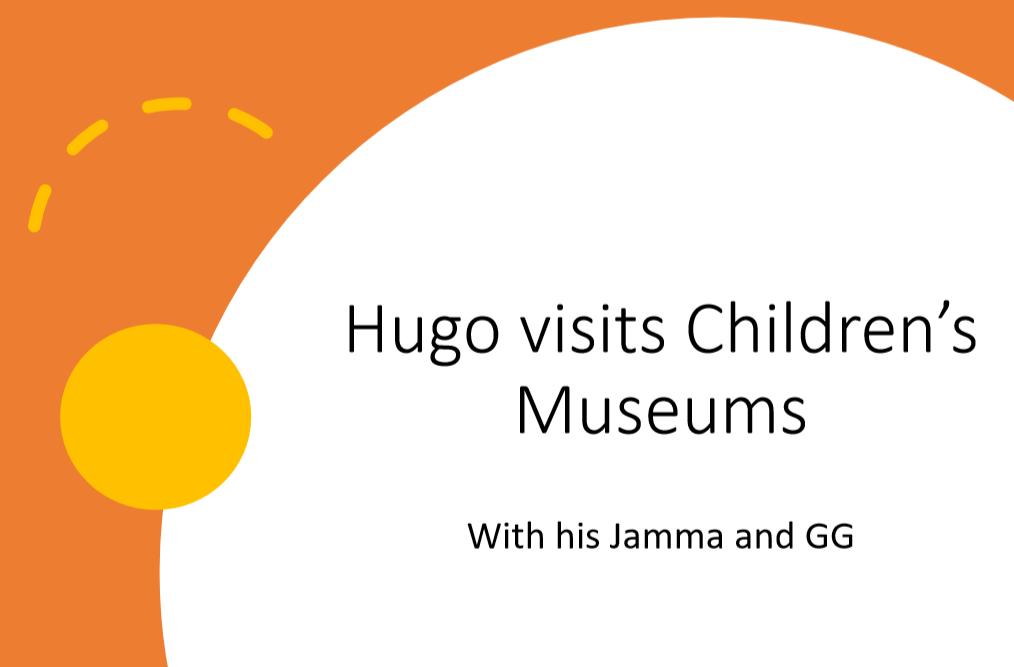 Make Your Own Museum
Saturday, June 27th
Step 1:
Watch Hugo's museum story together as a family. A PDF of the storybook is available.
Step 2:
Talk about what family members would like to see in the Great River Children's Museum that is being developed for the St. Cloud area.
Step 3:
Download and print these 18 pictures of different exhibit areas and a floor plan of the Great River Children's Museum and use them along with your own drawings and imagination to create a museum picture all your own. (If you do not have access to a printer, you can send us your address and we will mail you a packet of pictures for this activity.)
Step 4:
Share your ideas with us! Send us your pictures and stories. We will post them on our website. Email info@greatrivercm.org or drop them in the mail to:
Great River Children's Museum
111 7th Avenue South
Saint Cloud, MN 56301
We would love to hear from you!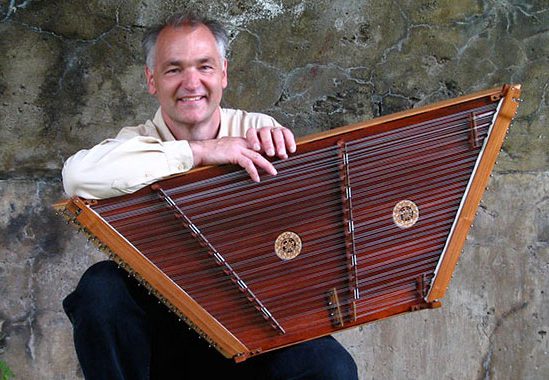 Free live concert by
Paul Imholte
Recorded Saturday, June 20th
Paul Imholte performs Old McDonald had a Banjo joined by Great River Children's Museum board members and the lullaby singers for a foot-stomping sing-along concert to launch the Family Fun Club!
About the Family Fun Club
The museum team will be asking Family Fun Club members for feedback to help them learn what makes quality programming for young children and how to create a museum that will best serve families in our area!
Funding provided by: