Over the last six weeks, the world has changed in ways that none of us could have imagined. Great River Children's Museum has continued to make progress even while some activities have been put on pause and many community events have been cancelled. Committees have continued to meet over Zoom during this time and plan around the COVID-19 crisis as best we can. We know our supporters and our community are interested in our progress.

Over the past several months, Play, Explore and Learn (PEL) Labs have been conducted by museum volunteers for the purpose of learning how families engage in a variety of museum activities. These events have been conducted with small groups by invitation. Unfortunately, the PEL Labs planned for April and May have been postponed, but the committee continues to plan and prepare for the time when they can resume. All the while, discussing ways to keep connected to children and families in the community through alternative activies during this challenging time.
Another group of volunteers have been working with a consultant to conduct roundtable discussions with targeted groups around museum development. They have met with two groups of community members, downtown council members and non-profit group representatives, and early childhood teachers. These discussions have added valuable insights at this key phase of development. Additional roundtable sessions will be conducted with other groups of stakeholders when we are able to safely meet in small groups.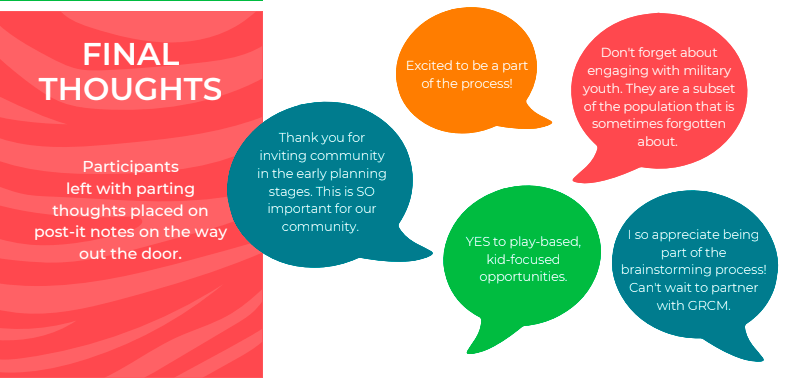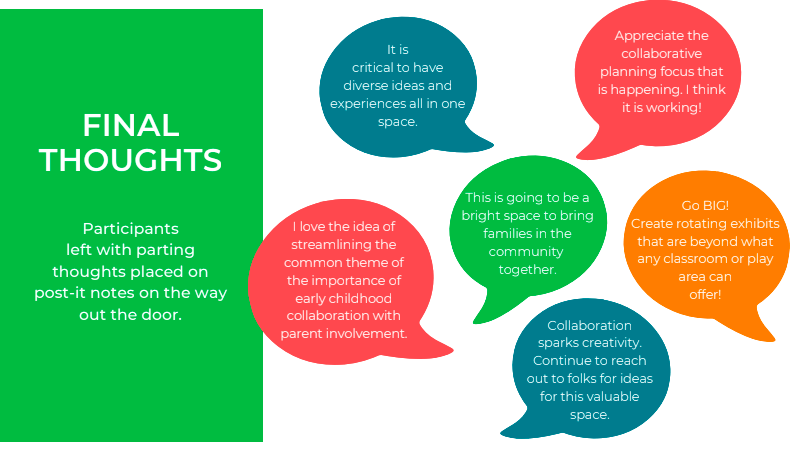 Our Exhibits Committee was visiting regional museums to inform their work as they continue to develop the exhibit concepts that were designed by the museum consultants. They visited the Children's Museum of Eau Claire and the Mille Lacs Indian Museum. Unfortunately, they had to postpone upcoming visits to museums that are now closed due to the COVID-19.
The Personnel Committee continues to forge ahead in the search for an executive director. The position posting garnered a lot of interest and interviews were planned before the Covid crisis. The committee has created a list of top candidates. Then, they conducted phone and Zoom interviews. They are on track to bring a recommendation to the board in May with a goal of bringing on an executive director in June.
This is just a sampling of the good work being done by the board, committees and volunteers working with the Great River Children's Museum. We look forward to the day when we can again bring community members into the building to engage in this exciting work with us. The excitement of children, families and neighbors is what fuels this work.