By Jane Ellison, GRCM board member and volunteer
Great River Children's Museum offered a Play, Explore and Learn (PEL) Lab for Somali families on October 8 at our downtown building. This was a rich co-learning experience, where families learned about the children's museum and children's learning through play. GRCM volunteers listened to suggestions for the future museum and were able to field test a welcoming display of cultural fabrics, carvings, metalwork, and local artwork.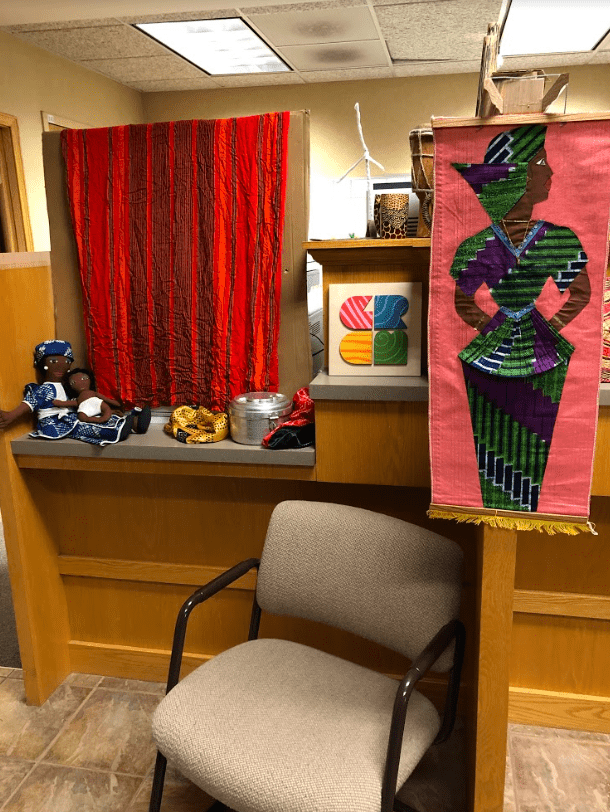 The PEL Lab offered activities one might find in the future exhibits, and efforts were made to integrate Somali materials, such as hijabs for the baby dolls and children's books in English and Somali.
The program included time for parents and children to play together, storytelling, snack and play for children while parents learned about museum plans and gave input on ways to incorporate Somali culture into the Community Connections exhibit. The PEL Lab closed with a multi-cultural music performance by the Lullaby Singers for parents and children together. The singing experience was SO enjoyable – some children brought the baby dolls to hold on their laps while listening to the music and a few of the parents joined the performers in a fun sing-a-long. Everyone left with smiles. No wonder music is a universal language.
GRCM volunteers were impressed with the kindness and cooperation among the fifteen children from 8 mos. – 13 years. Older children included and helped younger children, independently creating an amazing bus big enough for all – with a door that opened and closed, and an awesome steering wheel.
We are continuing to learn from the wider community that has much to offer the museum with its talents, ideas, creativity, support and encouragement. Many thanks to the Cultural Navigators Anisa and Naima, video production team Mohamed (XIDIG TV) and Bashir (C.A.I.R.O.), volunteers, and the Lullaby Singers!