Play is a powerful factor in a child's healthy development.
From birth, children practice and develop a wide range of skills as they play, explore, discover, and learn. Play encourages critical thinking and problem solving, cross-cultural competence, creative thinking, collaboration, persistence, communication and curiosity.
It's essential to family and community life. Great River Children's Museum will deliver learning experiences through five platforms:
Exhibits and environments
Large-scale, physical settings that engage children and adults in interactive, self-directed, shared learning experiences. These year-round activities can be explored over time during multiple visits.
The images below represent three of our eight core exhibits.
Climber to the Clouds (left) will be the heart of the museum, awing visitors as they enter the spectacular atrium. Higher and higher, kiddos will climb above cityscapes and rivers, exploring and interacting to learn about weather systems and even create their own rain, thunder, wind, and rainbows.
Great Big River (middle) meanders along as museum goers learn about the importance of water as habitat, a means of transportation for commerce as well as a lifeline and sacred space for communities. Rest assured, you'll get wet!
Headwaters (right) ushers in all that is inspiring about the outdoors in Minnesota. The call of Loons, crackling of a campfire, leaves whispering on a light breeze. This exhibit will share the sights and sounds of the great outdoors.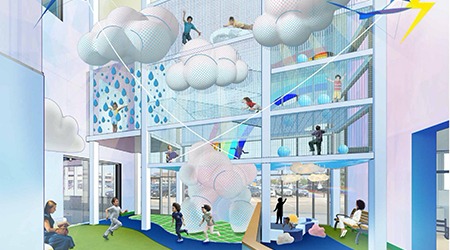 Programming
Workshops, performances, drop-in programs, camps and field trips that engage children and adults in active hands-on exploration.
Initiatives
Collaboration with multiple partners in seasonally inspired activities that allow the museum to better serve its audience. Initiatives offer the museum an opportunity to respond to timely issues, build awareness around a topic, or deepen its impact.
Outreach
Activities that connect selected museum offerings with children, parents, caregivers, and educators at parks and festivals, in schools, and other community venues. Outreach extends the museum's reach across the region to increase its access.
Community spaces
Spaces that bring people together for co-learning opportunities, group gatherings, birthdays, corporate outings, and more.