Reviewed by Vincent Miles, PsyD LP; Jane Ellison, LMFT; Jill Amsberry, DO; Bruce Broman, MD; and Barbara Skodje-Mack, EdD, LMFT
The modern children's museum is a place of wonder, a place of awe, a place of fun, and a place of playful learning. As a location separate from home and from school, this "third-space" creates an environment that is rich with the many childhood needs of healthy growth and development as well as a space for family and community to come together. One benefit of this unique environment is how it strengthens mental health and physical wellness by providing a space that is active, engaging, joyful, socially interactive, iterative and meaningful.1
While the primary effects are on the children who enter the doors, the secondary effects of these benefits can be traced to the family and back into the Central Minnesota community as a whole. The wellbeing of our next generation will undoubtedly reverberate in all of our lives.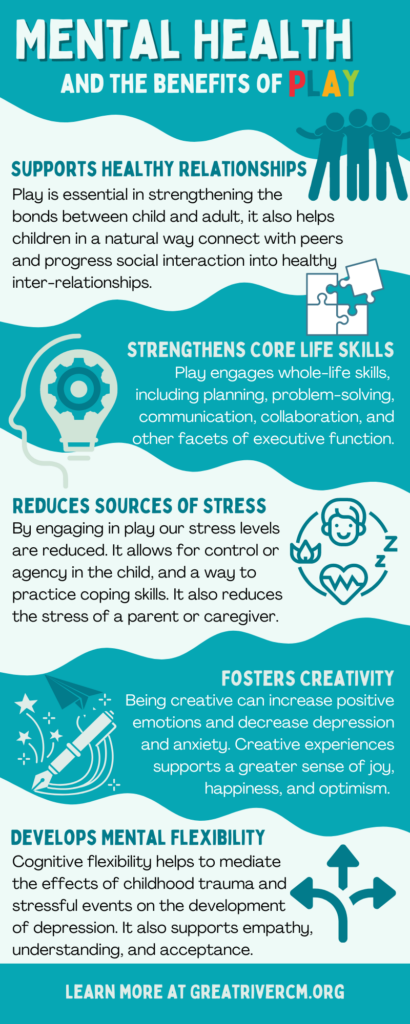 In recent years childhood stressors have been increasing2 and with the effect of the pandemic a tremendous burden has been placed on children, families, and our healthcare systems. This is, in part, evidenced by the extended wait times and high numbers of children on waitlists for mental health services throughout our 12 county region. The importance of play is growing and community demand for healthy spaces for childhood development is at an all-time high.
The physical and mental health benefits of play are well documented.3 4 5 In addition to encouraging healthy physical development, Great River Children's Museum will reinforce the long-term socio-emotional benefits provided by play-rich environments by: supporting healthy relationships, strengthening core life skills, reducing sources of toxic stress, fostering creativity, and developing mental flexibility, understanding, and acceptance.
1 Hirsh-Pasek, K., et al. (2020). A new path to education reform: playful learning promotes 21st century skills in school and beyond. Brookings Institute, Policy Brief. 2 Twenge, J. M., et al. (2019). Age, period, and cohort trends in mood disorder indicators. Journal of Abnormal Psychology, 128(3), 185-199. 3 Yogman, M., et al. (2018) The Power of Play: A Pediatric Role in Enhancing Development in Young Children. Pediatrics, 142(3). 4 White, R. E. (2012). The power of play: A research summary on play and learning. Minnesota Children's Museum. 5 MuseumNext (2022). The role of museums in supporting the wellbeing of children and families. Retrieved August 2022 from www.museumnext.com