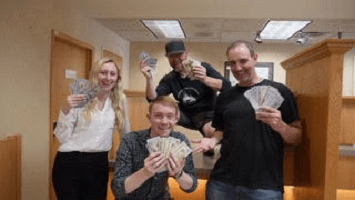 What do you do with a former bank building while you wait for it to be transformed into a children's museum? Make a documentary about a bankrobber, of course! The building was recently used by a crew of filmmakers to reenact the crimes of the Fishing Hat Bandit. According to the creators of the film:
"The Fishing Hat Bandit (working title) is a feature length documentary about the bank robbery spree of John Whitrock, also known as the Fishing Hat Bandit. Whitrock robbed 23 banks over the course of 18 months before being apprehended in Edina in January 2005. The film will include interviews with Whitrock, several of the bank tellers he victimized, the bank manager who helped catch the bandit, the two FBI lead investigators and others."
"This film will not just focus on the Fishing Hat Bandit's crimes, but also on the experiences of the bank tellers he victimized. Often, crime stories sensationalize the crime narrative with little regard for the victims. This film will tell a balanced story that illustrates the resilience of the many bank employees affected and includes a strong restorative justice theme."
The timing of the project was perfect! The teller stations were still intact and hadn't been used for museum purposes yet. The board happily agreed to share space with this creative project. It will be fun to see the final product!