By Sarah Drake, CEO & Teaching Artist of herARTS in Action
When I (herARTS in Action) was presented with the opportunity to create artwork for Great River Children's Museum, I knew I needed to invite the children I work with at my artist residencies to help. The space is transforming for the kids, and their families, to use while learning and having fun, so they needed a voice.
In the summer of 2021, I was able to tie this to my work with the United Way of Central Minnesota and 21st Century Community Learning Centers (21CCLC). I also happened to have some students in paid mentorship with me as well. They got hands-on experience in not only the creative but also the business side of how projects work.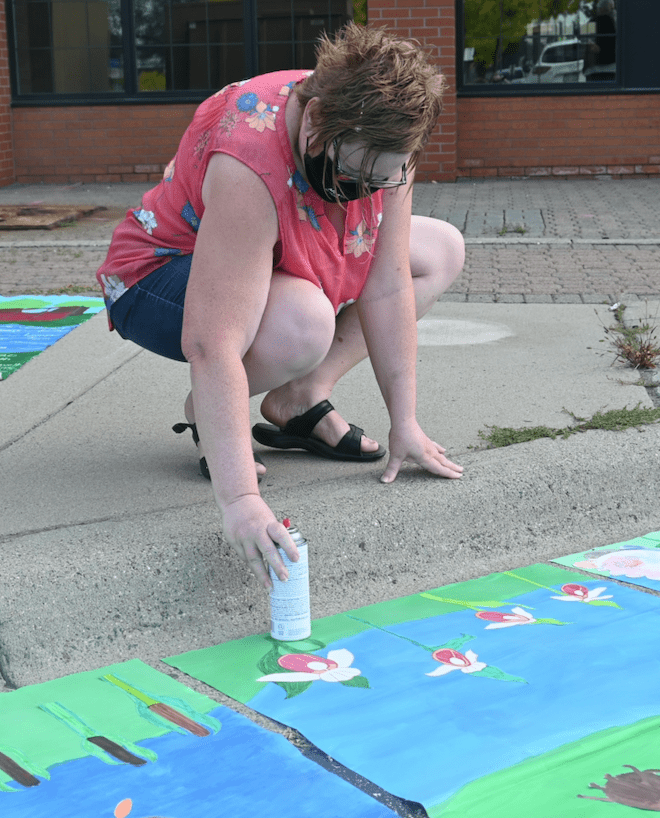 Students aged 1-20 and with heritage indigenous to this land, Africa, Asia, central and north Americas, and Europe, and with various religious backgrounds and abilities worked on the project. The common theme that emerged from them all: The Mississippi River and activities to do in, on, and around it.
Hanging in the windows, you can see the river as it starts in the spring at the headwaters, meanders down through St. Cloud in the summer and fall, and ends up in the Twin Cities in the winter. The seven clans of the Anishinaabe/Ojibwe are represented in the animals.
You may have read this far and recently drove by GRCM and are thinking to yourself, I didn't see any artwork in the museum's north windows on 7th Avenue. You're right! To keep them safe, they were temporarily taken down during demolition. They will be back up soon though. AND with some new additions!
Thanks to my classes through United Way, we have another group of students working on artwork for the windows in the south building. As spring flowers start to peek through the snow, the artwork will be popping up in the GRCM windows again!
Thank you to all of the funders who made this possible, the organization sites, but even more so to the kids who shared their brilliant ideas and talents!
The project for Great River Children's Museum was possible because of funding from the Morgan Family Foundation and United Way 21CCLC. This activity is made possible by the voters of Minnesota through a grant from the Central Minnesota Arts Board, thanks to a legislative appropriation from the arts and cultural heritage fund.
Visit www.herartsinaction.org for more information about the organization and for a copy of Sarah's first published book "Nanou's Promise: A Journey Beyond Hauling Water." She wrote and created the collage art for the book, which is inspired by her volunteerism in Burkina Faso for access to clean water, sanitation, and education.