This summer we've been able to connect with children, families, and community members in our region outside of St. Cloud. Families and caregivers are excited to learn that a children's museum is coming to Central Minnesota! Through our partnership with Great River Regional Library, and through visits to various farmers markets, we've been able to provide simple and interactive programming for kids and their caring adults to enjoy and learn through play.
Farmers markets are a great way to meet neighbors in your community. Supporting your local farmers market is an important piece of community involvement too. Not only are you getting fresh and nourishing food that you need, but you're also connecting with local growers!
The farmers market is a great place to learn where your food comes from and how it's grown by simply chatting with the farmers and growers. You can ask them where the food gets planted, how long it takes to grow, when it was picked, and more. Sometimes, they might even have recipes and cooking ideas to share. After all, they're the ones who are there from seed to sprout!
Taking a walk through the farmers market is a great way to learn more about your community and those around you. It can be a great place to try new foods, learn about local arts and trades, and meet new people. For some kids, farmers markets can be a more comfortable environment to experiment with food, ask questions, and in our case spend some time playing while learning about Great River Children's Museum.
We're designing an exhibit space that will celebrate the diversity of Central Minnesota's communities through art, food, and music. The goal is to demonstrate that even though we're all different and come from different backgrounds or cultures, we are all connected. Community Connections will include a Global Market to explore food, spices, and more from different cultures and parts of the world. You and the kids you love will be able to explore various scents by smelling spices, textures by touching food, and colors and sizes by assembling flower bouquets and sorting produce.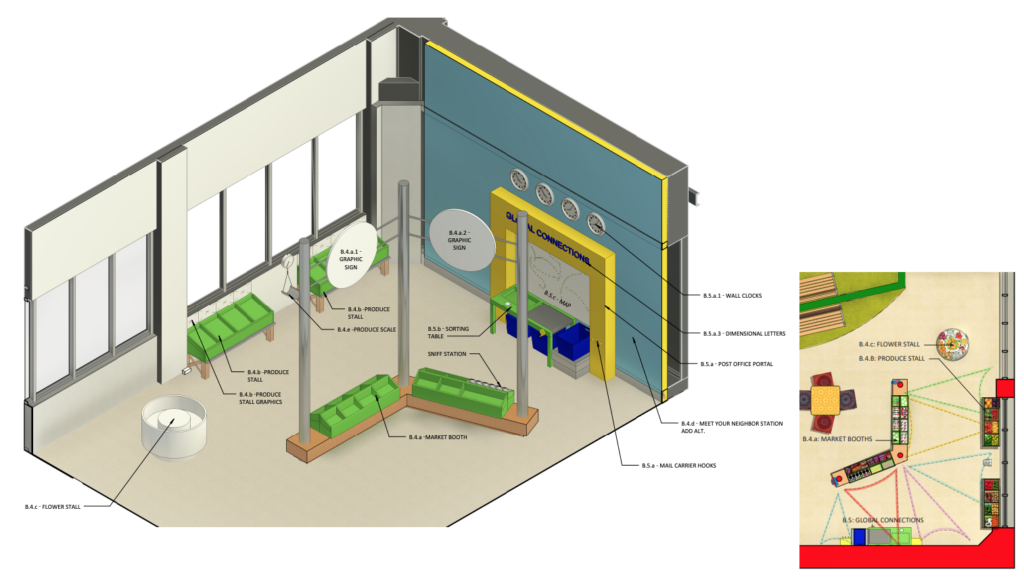 We want to thank all of the local farmers markets that have allowed us to be there with a fun and engaging experience for children and their caring adults. We've met and connected with so many amazing people!